Startup idea pitching contest commences at SKUAST-K
BK News
Srinagar, Sept 28: Sher-e-Kashmir University of Agricultural Sciences & Technology, Kashmir (SKUAST-K) in collaboration with Lemon School of Entrepreneurship, Mumbai is conducting a four-day startup idea pitching contest, 'What an Idea', for the students of the university.
The objective of the online contest is to encourage aspiring entrepreneurs and provide them with a mentoring platform and incubation facilities.
The inaugural event was chaired by Director Planning & Monitoring and PI NAHEP, SKUAST-K, Prof Nazir Ahmad Ganai in presence of Director Lemon School of Entrepreneurship, Mukesh Ashar, HRM Consultant for NAHEP IDP Prof Farooq Ahmad Zaki, Dr Farahanaz Rasool and Dr Naveed Bhat of Innovation & Entrepreneurship Cell of IDP SKUAST-K. The jury panel included for first two include Prof Hamid Rather, HOD, Food Sciences – SKUAST-K, Anshal Gulati, CEO, Peer Oil Pvt Ltd, J&K), Khurshid Dar, Incharge, CII J&K chapter), Dr Farahanaz Rasool SKUAST-K, Mukesh Ashar Director, LSE), Girish Raju, Lead Catalyst Business acceleration, Lemon Ideas) , Saurabh Shah, Partner -West India, Lemon Ideas).
Seven teams of students presented their ideas in front of the jury on the first day of the contest. The ideas put forward in the contest were: 1) Functional Chicken Bite – Ready to eat chicken nuggets incorporated with pectin, designed in the shape of ice-cream, High-density walnut and apple plantation, Organic Lavender cultivation,  Production of Functional Dairy Products, e-Mandi – Agricultural digital revolution, Instant conversion of human hair wastes and Poultry wastes completely into 100% novel organic liquid fertilizer 'Kera-GroW', breeding of ornamental fishes in cold water conditions of Kashmir.
The Lemon School of Entrepreneurship (LSE) is also conducting a three-month online programme for the SKUAST-K students on Entrepreneurship Development & Skill Building. The program was designed to train and develop entrepreneurial skills in the students to enable them to take up entrepreneurship as a career. SKUAST-K is conducting a number of programmes under World Bank-ICAR funded National Agricultural Higher Education Project for boosting innovation and entrepreneurship in the university.
SKUAST-K holds weeklong training on women empowerment for organisational excellence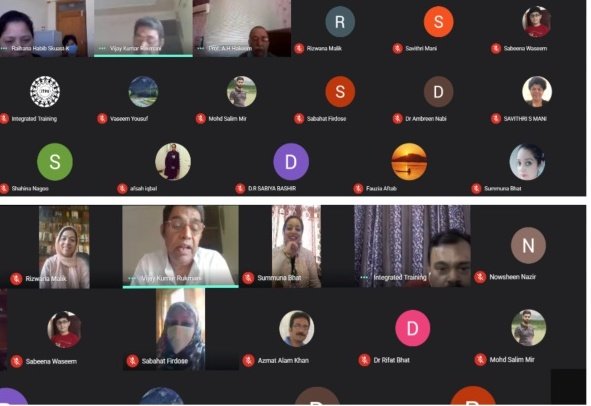 BK News
Srinagar, Oct 20: Sher-e-Kashmir University of Agricultural Sciences & Technology, Kashmir held a weeklong training programme on 'Women Empowerment for Organisational Excellence and Motivation at Workplace'.
About 36 women scientists and faculty members participated in the training organised by the university's Faculty of Agriculture under ICAR-World Bank-funded National Agricultural Higher Education Project (NAHEP) in collaboration with Integrated Training and Policy Research (ITPR), New Delhi.
 from 12– 17 October 2020. The intensive, participatory training provided the participating women with an opportunity to discover their individual strengths, and understand how those strengths could become part of their empowerment in creating a positive impact in their lives as well as on the community as a whole. The ITPR faculty, through lectures and a range of experiential activities, guided the participants in discovering their personal power and also in moving in the direction towards empowerment and equipped them with the tools needed to be successful and to empower themselves to embrace the power of their voice. 
The valedictory function was attended by Director Planning and Monitoring & PI NAHEP of SKUAST-K, Professor Nazir A Ganai and Dean Faculty of Agriculture, Wadura, Prof AH Hakeem. Prof A Ganai highlighted the progress of gender sensitization programme taken under Social Equity Plan of NAHEP, SKUAST-K. Course Coordinator Prof Raihana Habib Kanth, Chief Scientist Agronomy & Faculty coordinator NAHEP briefed dignitaries about the course content & Dr Rizwana Malik (Course co-coordinator) presented the recommendations. 
SKUAST-K holds national seminar on role of rice, maize cultivation in food security 
BK News
Srinagar, Oct 17: To commemorate 'World Food Day 2020', Sher-e-Kashmir University of Agricultural Sciences and Technology, Kashmir held a daylong national seminar to address the constraints faced in rice and maize cultivation for enhancing food security in Jammu and Kashmir.
The online seminar, 'Grow, Nourish, Sustain Together', was organised by the university's Faculty of Agriculture, Wadura in collaboration with World Bank-ICAR funded National Agricultural Higher Education Project (NAHEP). Nationally renowned experts on rice and maize cultivation from various premier agricultural institutes of the country addressed the seminar in which about 100 students from across the country, besides the scholars and scientists of the university, participated.
Director ICAR-IIMR, Ludhiana, Dr Sujay Rakshit emphasized on the importance of quality protein maize for alleviating malnutrition from socially and economically underprivileged people. While elaborating on the role that maize crop can play in enhancing the rural economy of Jammu and Kashmir, he suggested that the farmers in the UT should cultivate speciality corns like sweet corn, popcorn and baby corn varieties to boost their economy. Director ICAR-IARI, New Delhi, Dr AK Singh in his lecture on 'biofortification for nutritional security stressed on the use of biofortified rice to alleviate hunger and malnutrition from the society.
Vice-Chancellor RLBCAU, Jhansi, Dr Arvind Kumar, who was the chief guest at the occasion, spoke on the importance of rice as an inexpensive staple for the nutrition of large chunk of the population.
Director Planning and Monitoring & PI, NAHEP SKUAST-K, Prof Nazir Ahmad Ganai said that during the recent global economic crisis due to COVID19, only agriculture has shown stability and sustainability.
Dean Faculty of Agriculture, Prof AH Hakeem applauded the role of farmers in enhancing food security.
Prof Raihana Habib Kanth, Faculty Coordinator NAHEP and Dr Zahoor A Dar, co-organising secretary, coordinated the seminar.
An online quiz on the World Food Day theme, in which 110 students participated, was coordinated by Dr Naveed Hamid and Mohammad Salim Mir.
Undergraduate students of FoA, Wadura, Umar Mukhtar and Rakhshandah Ather  also delivered their talks on the theme of the seminar on this occasion.
HDFC Bank Festive Treats 2.0 reaches rural India
Ropes in 1.2 lakh VLE through Centre's CSCs
BK News
Srinagar, Oct 9: HDFC Bank Saturday took its festive offers to the most remote parts of the country. It launched the semi-urban and rural phase of HDFC Bank Festive Treats, its annual financial services dhamaka through the Government of India's Common Service Centres (CSC) network, a spokesperson of the bank said.
Through the network of 1.2 lakh, village-level entrepreneurs (VLEs) enrolled with CSC, customers in these locations can avail of offers specifically created for them. Customers will get special deals on all banking products from loans to bank accounts. This includes home loans, 2-wheeler loans, car loans, tractor loans, gold loans or business growth loans.
The bank has also tapped over 3,000 hyperlocal merchants and traders to offer customized deals at the regional level. Customers can avail of flat 5% to 15% off in various categories including apparel, electronics, grocery, home decor and jewellery among others. This is over and above 1,000 national and international offers that can are also available.
Customers simply have to walk to their nearest Common Service Centre or neighbourhood VLE to avail of special festive offers available across the spectrum of financial solutions. In the current circumstances with the pandemic, all these offers are also available online.
This is the 2nd phase of HDFC Bank Festive Treats 2.0 campaign. It was launched digitally across the country on September 30. The rural phase of the campaign was launched digitally by Smita Bhagat, Country Head, Government and Institutional Business, E-Commerce and Start-ups, HDFC Bank together with Dinesh Tyagi, CEO CSC SPV.
"We want to help people living in rural areas and extend as much benefit of HDFC Bank's Festive Treats to them as those in urban areas. Last year we saw a great response to this initiative. While this year it is an unusual circumstance with the pandemic, I believe our VLEs will be able to safely help those in their areas with all types of finance. They will also be able to celebrate this season with many local offers curated by HDFC Bank," said Dinesh Tyagi, CEO, CSC SPV during the launch of phase 2.
Speaking to the VLEs about the launch of HDFC Bank Festive Treats, Smita Bhagat, Country Head, Government and Institutional Business, E-Commerce and Start-ups, HDFC Bank said, "60% of India lives in semi-urban and rural areas and we have been increasingly reaching out to them through our network. Through our partnership with CSC SPV we were able to reach so many people in these markets last year and I congratulate the VLEs for the tremendous success in the previous edition of Festive Treas. With them as our partners, we have been able to go deeper into the hinterland and take banking products to rural India. We hope to continue growing together."