Startup idea pitching contest commences at SKUAST-K
BK News
Srinagar, Sept 28: Sher-e-Kashmir University of Agricultural Sciences & Technology, Kashmir (SKUAST-K) in collaboration with Lemon School of Entrepreneurship, Mumbai is conducting a four-day startup idea pitching contest, 'What an Idea', for the students of the university.
The objective of the online contest is to encourage aspiring entrepreneurs and provide them with a mentoring platform and incubation facilities.
The inaugural event was chaired by Director Planning & Monitoring and PI NAHEP, SKUAST-K, Prof Nazir Ahmad Ganai in presence of Director Lemon School of Entrepreneurship, Mukesh Ashar, HRM Consultant for NAHEP IDP Prof Farooq Ahmad Zaki, Dr Farahanaz Rasool and Dr Naveed Bhat of Innovation & Entrepreneurship Cell of IDP SKUAST-K. The jury panel included for first two include Prof Hamid Rather, HOD, Food Sciences – SKUAST-K, Anshal Gulati, CEO, Peer Oil Pvt Ltd, J&K), Khurshid Dar, Incharge, CII J&K chapter), Dr Farahanaz Rasool SKUAST-K, Mukesh Ashar Director, LSE), Girish Raju, Lead Catalyst Business acceleration, Lemon Ideas) , Saurabh Shah, Partner -West India, Lemon Ideas).
Seven teams of students presented their ideas in front of the jury on the first day of the contest. The ideas put forward in the contest were: 1) Functional Chicken Bite – Ready to eat chicken nuggets incorporated with pectin, designed in the shape of ice-cream, High-density walnut and apple plantation, Organic Lavender cultivation,  Production of Functional Dairy Products, e-Mandi – Agricultural digital revolution, Instant conversion of human hair wastes and Poultry wastes completely into 100% novel organic liquid fertilizer 'Kera-GroW', breeding of ornamental fishes in cold water conditions of Kashmir.
The Lemon School of Entrepreneurship (LSE) is also conducting a three-month online programme for the SKUAST-K students on Entrepreneurship Development & Skill Building. The program was designed to train and develop entrepreneurial skills in the students to enable them to take up entrepreneurship as a career. SKUAST-K is conducting a number of programmes under World Bank-ICAR funded National Agricultural Higher Education Project for boosting innovation and entrepreneurship in the university.
J&K Govt pushes for GI tagging of Doda morel
BK News
Jammu, Jan 13: Marking a new age of heirloom crops and products, Principal Secretary Agriculture Production & Farmers Welfare, Navin Kumar Choudhary has taken an initiative by pushing for Geographical Indication of Doda morel locally know as Gucchi.
Great Mission Group Consultancy Pune has submitted the application through Adhik Kadam, Chairman of the Borderless World Foundation, facilitated by Department of Agriculture Production for its registration as Geographical Indication to the Registrar GI Registry Chennai.
Prof Ganesh S Hingmire, Chairman of the Consultancy group presented the copy of GI application to Navin  Choudhary, who lauded his efforts and also patted Sagar D Doifode, Deputy Commissioner Doda, for his painstaking efforts in projecting Doda Gucchi Mushroom (Morchella esculenta) for a global niche. He added that Gucchi holds a special place among the costlier food items as an excellent and elite because of its high cost.
Choudhary averred that Doda Gucchi Mushroom is one of the most popular, flavorful, medicinally beneficial mushroom species found in the nearby forest areas of the Doda.
This Mushroom variety is among the world's costliest food items that grow wild and collected manually. The farming community in the district traditionally collects the Mushroom from forest areas through a well-managed community approach. Locally known as "thunthoo", it is a familiar commodity among the residents of the area spread in the entire areas of the district.
Choudhary said that Geographical Indication shall prevent unauthorized use of a Registered Geographical Indication by others. It (Geographical Indications) will provide legal protection to Doda Gucchi Mushroom, which in turn will boost its exports, he added. It will also promote the economic prosperity of locals in the geographical territory as the farming community follows the practice of collection of Gucchi in the district from the forest areas from generations together. They penetrate deep inside dense forests for its collection.
Prof Ganesh S Hingmire expressed gratitude to the officers of the Department of Agriculture ProductionJammu and KVK Bhaderwah for extending all necessary support in the documentation of the GI application which has been accepted for further necessary action
On the occasion, Inderjeet, Director Agriculture Production & Farmers Welfare Jammu, KK Sharma, Joint Director Agriculture Marketing Jammu and Shahid Iqbal Sheikh, Joint Director of Agriculture (Extension) Jammu were also present.
Rs 1,700 cr NAFED investment in J&K: MD NAFED, Director Horticulture Kashmir hold meeting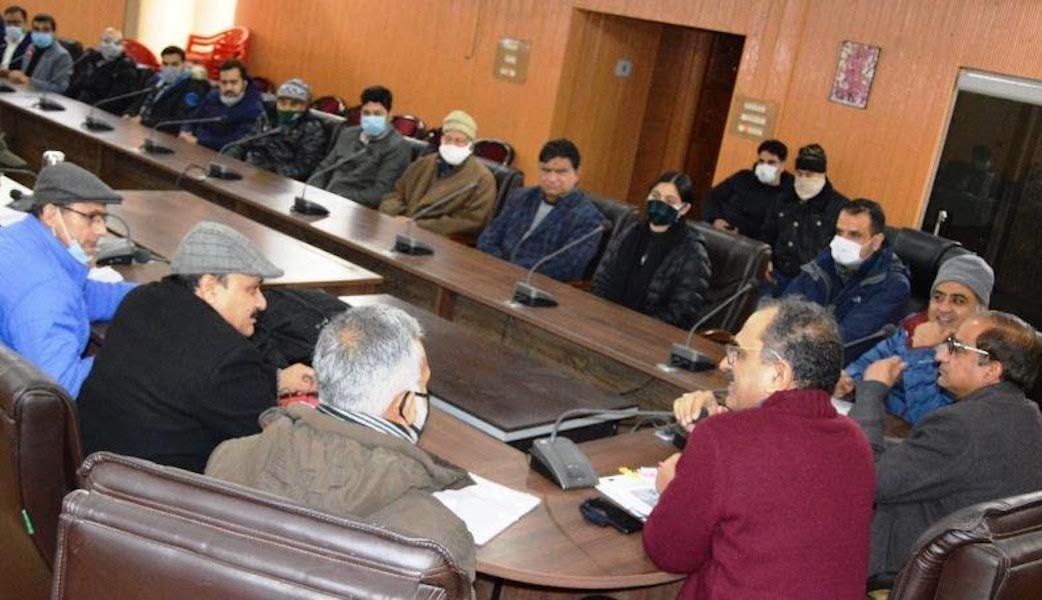 BK News
Srinagar, Jan 7: To discuss the plan for Rs 1,700 crore NAFED investment in horticulture sector of Jammu and Kashmir, a meeting was co-chaired by Managing Director National Agriculture Cooperative Marketing Federation (NAFED), Sandeep Chadha, and Director Horticulture Kashmir, Ajaz Ahmad Bhat here on Thursday.
During the meeting, the programmes related to High Density Plantation, Development of Hi-Tech Nurseries, setting up of Quality Control Labs, branding and marketing of products, Farmers Produce Organization was discussed in detail.
Managing Director, NAFED apex organization of marketing cooperative for agricultural produce in the Country informed that a Memorandum of Understanding (MoU) with Jammu & Kashmir Government for High Density Plantation of Apple, Walnut, Cherry and other Horticulture produce was signed.
Director Horticulture informed that NAFED is going to invest Rs 17000 Crore for High Density Plantation covering 5500 hectares in next 5 years. NAFED proposed to establish three clusters of Post-harvest infrastructure in North, South Kashmir and Kathua/Samba belt to begin with.
Further, NAFED will also set up 20 Farmer Producer Organization, one in each district, in next three months besides three clusters of Cold Storage in J&K at an estimated cost of Rs. 500 Crore.
The proposed plan of NAFED related to implementation and broad contours of High Density Plantation Programme and other components was discussed on spot with Chief Horticulture Officers in brief.
Director Horticulture informed that this announcement by the Government will provide an effective marketing platform to the growers of the Union Territory and will facilitate employment generation for the local people.
He said it will also ensure remunerative prices for the farmers produce resulting in overall income enhancement of farmers in J&K.
The meeting among others was attended by all Chief Horticulture Officers, Farm Managers ACHD, President Fruit Growers Association Srinagar, Private Entrepreneurs of High Density Plantation Programme and President CA Store Owners Association, J&K.
NAFED to invest Rs 1,700 cr in J&K to develop 1.10 lakh kanal high-density orchards
Will develop Rs 500-cr cold storage cluster, setup 20 farmer-producer Organisation; signs MoU with UT Govt
BK News
Srinagar, Jan 1: National Agricultural Cooperative Marketing Federation of India (NAFED) will invest Rs 1,700 crore in Jammu and Kashmir to develop high-density orchards on 1.10 lakh kanal of land.
The apex organization of marketing cooperatives for agricultural produce in the country will also set up three cold storage clusters, one in Jammu division and two in Kashmir division with an investment of Rs 500 crore, besides setting up 20 Farmer-Producer Organizations, one in each district of the UT.
In this connection, NAFED on Friday signed a memorandum of understanding (MoU) with J&K Government.
The MoU was signed between Principal Secretary Agriculture Department Navin Kumar Choudhary and Managing Director, NAFED, Sanjeev Kumar Chadha in presence of Lt Governor of J&K Manoj Kumar Sinha.
J&K Government, in a statement, said the MoU is an important step towards the promotion of horticulture produce of J&K and to take it to the global market.
"The MoU with NAFED is seen as a game-changer for the horticulture sector in Jammu and Kashmir. High-density plantation of apple, walnut, cherry, flowers etc has the potential to increase the income of farmers by three to four times," the statement said.
NAFED will cover 5500 hectare (1.10 lakh kanal) of land at a cost of Rs 1,700 crore in the next five years with a major focus on apple, walnut, cherry, pear and other significant horticulture produce. NAFED will also set up 20 Farmer-Producer Organizations, one in each district, in the next three months.
The NAFED will set up three cold storage clusters, one each in North Kashmir, South Kashmir and Kathua at a cost of Rs 500 crore, besides ensuring Geographical Indication tags (GI Tags) for all premium and niche horticulture produce, branding and marketing of fruit crops like apple, walnut, cherry, olive, litchi etc.
Increasing productivity with technology intervention UT Govt's top priority: LG
Speaking at the MoU signing ceremony, the Lt Governor said the J&K Government is tirelessly working on four issues that are being addressed on priority -increasing productivity through the intervention of technology; ensuring best price and market support; mitigation of risks, and diversification through allied activities.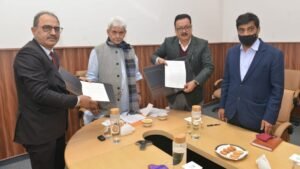 The Lt Governor said that horticulture produce of Jammu division will be given a major push for marketing and NAFED will also look into the possibility of the high-density plantation of apple in Kishtwar and Bhaderwah.
"The UT Government will work with NAFED to promote horticulture produce and to set up a quality planting material lab. GI tagging of all premium horticulture produce and marketing is a top priority of the administration. The investment in various areas to promote and market horticulture produce is being made for faster expansion. We intend to increase Cold Storage capacity, identify and promote horticulture produce of Jammu division to ensure better price to farmers," the Lt Governor said.
As per the MoU, NAFED with J&K Government will create post-harvest infrastructure for agriculture and horticulture crops in the form of cold atmosphere stores, grading and processing facilities in future at the locations decided by the UT administration. Besides, implementation of the high-density plantation, NAFED will develop hi-tech nurseries for raising rootstock and also import it to facilitate the farmers.
This historical initiative involves setting up virus indexing labs as per latest protocol for testing of quality planting material. The MoU has given a major thrust to marketing. The NAFED with J&K Government will work on branding and marketing of fruit crops and establishment of market linkages for exotic and non-seasonal vegetables and flowers in different metro cities of India.
Sanjeev Kumar Chadha, Managing Director, NAFED said the organisation will work in a time-bound manner on each point to increase productivity and also ensuring availability of hybrid vegetable seeds and high-value exotic vegetable seeds while giving special focus to popularize aromatic plants of Jammu division.
Navin Kumar Choudhary, Principal Secretary to the Government, Agriculture and Horticulture Department, J&K said that all the required infrastructure including cold storage and processing facilities will be made available in a short span of time to take horticulture of Jammu and Kashmir in the global market. The robust mechanism for branding and marketing of horticulture produce and market linkage within the country will revolutionize the agriculture and horticulture sector in Jammu and Kashmir, he added.
BVR Subrahmanyam, Chief Secretary; Arun Kumar Mehta, Financial Commissioner, Finance Department and Nitishwar Kumar, Principal Secretary to the Lt Governor, besides other senior officers attended the MoU signing ceremony, in person and through virtual mode.